Sorting systems for tomatoes
We Promise Perfection.
The customers demand for ripe tomatoes is high understandably because they taste sweeter they can also turn soft early and spoil in the packaging. Aweta has a numerous solutions for automating and integrating tomato packing lines.
Each packing line is designed to deal with each specific species of tomato
Cherry and grape tomatoes
Our Millistar grader, in combination with the unique Multiscan S-30TG guarantees defect free, perfect size, colour grading and increases overall performance of quality sorting by ascertaining the appropriate condition of the fruit and grading it in its respective class.
Round and beef tomatoes
Our Rollerstar is one of them. It is Fast. Smooth and Efficient meaning your tomatoes are in the Best Hands. The cutting edge patented Rollerstar spreading V-gutter belt guarantees a smooth transfer onto the carrier and from there the carrier's mid-positioned rotating axis ensures an even transfer to the brushes.
High capacity and Precise Weighing Accuracy: The Rollerstar's patented carrier system ensures an accurate and stable weighing system that operates at high speed while still maintaining an optimum fill rate.
Increased shelf-life means increased profitability.
Our technology will detect and remove overripe fruit and reduce the need for manual grading.
Improving on quality guarantees a satisfied and loyal customer.
The ability to determine sweetness, acidity and degree of maturity assures the end product will be one of consistently high quality.
---
Sensors
Tomato Quality
There is a growing demand for higher external and internal quality. External aspects are the main components in the decision to purchase. Internal quality (texture, softness and absence of internal defects) is linked to aspects that are not generally perceived externally but are equally important to many consumers. Inscan-Iqa-Tomatoes is the solution to achieve this perfection
 
---
Grading Technology
Thanks to the flexibility of our neural network and LED technology, the Advanced_Vision_3D optical grading solution has the ability to identify and grade defects based on individual characteristics instead of solely by colour and contrast alone.
 
---
Packing Technology
Aweta provides tailor-made solutions. An example is our line of unique and versatile packaging systems. Produce is packaged in accordance to the individual requirements of the customer (e.g. supermarkets and retailers). Methods include crates, boxes, bags, nets, clamshells or punnets.
Qflow is one of our latest innovation for packing tomatoes into punnets.
All packaging can be labeled with the date of production and all other desired information, enabling accurate tracking and tracing on an international scale.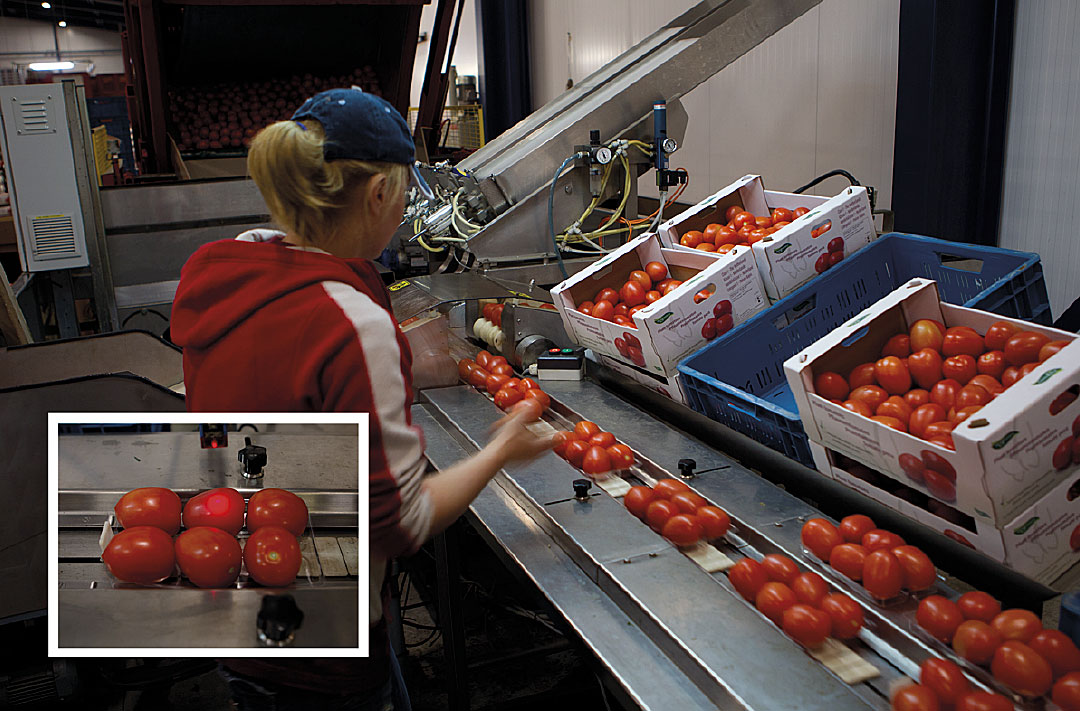 Palletizing Technology
All of our palletization processes operate using a unique management and supervision system, which includes equipment such as buffering and strapping that ensure perfect control of the packing lines, as well as efficient continuity and flow in production.